About the book
"Herold: Internal Medicine" is a lecture oriented representation taking account of the topic catalogue for the medical examination for physicians. It contains ICD-10 codes within the text and the index of entries.

Approx. 800 pages

Systematically the complete topics of internal medicine

Accentuation of "pitfalls" which are important for exams

Taking account of the most important German and American textbooks (i.e. Harrison)

Table of clinical-chemical normal values with SI units

Taking account of "evidence based medicine"

ICD-10 codes within the text and the index

"Herold: Internal Medicine" has become a standard compendium of internal medicine in Germany, being published for more than three decades now. It has been updated annually, therefore it always contains the actual knowledge of internal medicine and the latest medical guidelines.
The textbook gives an overview of the complete topics with detailed information about diagnosis and therapy. It has a clear structure which makes it easy to find the necessary information quickly; this makes it, as it has been written in a review, an "indispensable reference work for many physicians and a learning bible for many medical students" who use it for preparing for their exams.
Or as it has been written in another review, "the reader can find all subject areas logically arranged and therefore clearly represented. The arrangement of the chapters is always the same, thus making a good overall view possible."
A third review describes it as follows: "Within a very short time, the reader receives a host of information and feels well informed about every subject area. In order to understand deep reaching connections, it is partially necessary to consult a more comprehensive book on internal medicine. In general, though, »Herold« definitely is sufficient for covering the necessary knowledge on this subject. (...) The facts are presented in well readable sentences and key points. Therefore, fast reading and structured learning are very well possible. Apart from important pieces of advice for hospital work, the reader also gets useful information for making a diagnosis."
Another review describes it like this: "Such topicalty is rare amongst textbooks, however it is essential in day-to-day medical practice. (...) The textbook ranges far below the average of comparable (content) textbooks, in which the price is now rapidly approaching € 100. It is a textbook with an excellent price-performance ratio."
Because of its success, the textbook has been translated into several languages. And now it finally is available in the first English edition.

HEROLD – simply ingenious!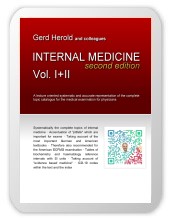 Table of contents:
Volume I:


Hematology
Cardiology
Pneumology
Gastroenterology part 1

Volume II:


Gastroenterology part 2
Salt and water homeostasts
Nephrology
Rheumatology
Metabolic system disorders
Endocrinology
Angiology
Infectious diseases
Annex (infectious diseases)
Somatoform disorders
Bullying at work and illness
Smoking risks and cessation support
Alcoholism
Physical exercise and health
Poverty and disease
Medical reports
Occupational diseases
Haemophoresis
Geriatrics
Rehabilitation
Intoxications
Biochemistry and haematology reference intervals



See some
examples
from this book.
Read some of our reader's
reviews
of this book.
Buy the book (vol. 1+2):
Vol. 1: ISBN 978-1-291-72733-3 (Lulu-Product 23481329)
Vol. 2: ISBN 978-1-291-72734-0 (Lulu-Product 23481331)
E-Book (PDF): ISBN 978-1-326-91228-4 (Lulu-Product 23481336)